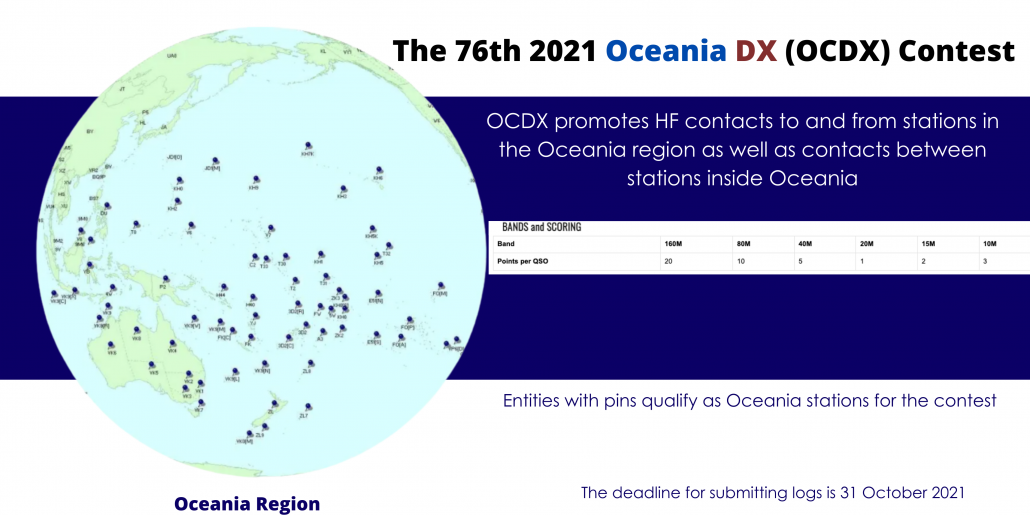 What is the contest?
Every year a contest is held that promotes HF contacts to and from amateur radio stations in the Oceana region as well as contacts between stations inside Oceania. Points are allocated for each contact depending upon the location. There is no penalty for working non-Oceania stations but contacts between non-Oceania stations will score no points or multiplier credits. Each contact or QSO is credited with twenty points on 160M; ten points on 80M; five points on 40M; one point on 20M; two points on 15M; and three points on 10M. Note that the same station may only be counted once on each band for contact points.
The aim is for Oceania entrants to contact as many stations as possible, anywhere in the world !! In 2020 over 1600 stations participated.
Oceania shortwave listeners should try to log as many stations as possible both inside and outside Oceania.
When is it on?
This year there are two separate contests held a week apart. The phone contest will be held on Saturday October 2nd from 06:00 UTC to Sunday, October 3rd 06:00 UTC . The CW contest will be held on Saturday 9 October from 06:00 UTC to Sunday 10 October 06:00 UTC.
Enter one contest or both! See summarised notes provided by the contest holders.
For a clearer map of Oceania click here
SPECIAL NOTES FOR THE 2021 CONTEST
A reminder that the Phone and CW sections each start at 06:00 on Saturday and end at 06:00 on Sunday.
The deadline for submitting logs is 31 October 2021.
Entrants are reminded of the need to observe any COVID related restrictions (e.g. social distancing and travel constraints) that may be in place for the contest dates.
Electronic logs are to be submitted using the form at https://ocdx.contesting.com/submitlog.php. Please contact the Contest Committee at info@oceaniadxcontest.com if you are encountering difficulty in submitting your log.
Electronic logs are to be in Cabrillo format which is generated by all popular contest logging software programs. Alternatively, entrants can use the forms at http://www.b4h.net/cabforms.
Only one entry may be submitted by each operator or team of operators (Rule 6a).
If the station worked does not provide a serial number for the Oceania DX Contest, then log the received number as 001. See Rule 8.
A reminder that logs from Single Band entrants must record all contacts made during the contest period, even if on other bands. Only contacts made on the band specified in the Cabrillo header or summary sheet will be used for scoring purposes.
Indonesia entrants are reminded that the Indonesia amateur radio regulations do not permit the YH club prefix to be used in the OCDX and other national or international amateur radio contests. Only the 7A, &I, 8A or 8I club prefixes may be used for this purpose.
All entrants are reminded that UTC must be used for recording the date and time of each QSO and that care must be taken to ensure the times are recorded correctly.

The Phone and CW contests are scored separately.
Prefixes are multipliers (e.g. N8, W8, WD8, HG1, HG19, KC2, OE2, OE25, LY1000, VK2 …) on each band on which you work them.
For multiplier purposes, prefixes and callsigns without numbers are notionally assigned a zero e.g. PA/N8BJQ counts as PA0, and XE/KT5W counts as XE0. All callsigns should however be logged as sent.
Maritime mobile, mobile, /A, /E, /J, /P, or interim license class identifiers do not count as prefixes.
Special event, commemorative and other unique prefix stations are welcome.

The total score is the (sum of the Contact Points) multiplied by the (sum of the Multipliers).
 CATEGORIES
Transmitting Single Operator:

QRP (SO QRP) 5 watts
low power (SO LP) 100 watts
high power (SO HP) the lesser of license limit or 1500 watts

Transmitting Multiple Operators

Single Transmitter (M1)
Two Transmitters (M2)
Multiple Transmitters (MM)

Short Wave Listener (SWL)
DXcluster assistance is permitted in all categories, with the usual restrictions (see the full rules for details)
Entries on individual bands are supported.
World Stations operate in a separate category to Oceania stations
 CQs and EXCHANGES
Participants typically call "CQ Oceania" on phone, and "CQ OC" on CW.
Contest exchanges are signal reports plus a serial number, starting at 001.
Be careful to log callsigns and reports accurately, especially multipliers, since typos can be costly.
If someone does not send you a serial number, log them as serial number 001.
To help the adjudicators cross-check other entrants' logs, please log every completed QSO:

Log zero-point QSOs (e.g. if DX stations work other DX stations)'
Log any duplicate QSOs'
Single band entrants: log your QSOs made on all bands (the Cabrillo header tells us which band you are entering)'
If you participate but choose not to enter, a checklog would be welcome for the same reason.
 SUBMIT YOUR ENTRY
The OCDX contests are adjudicated electronically, hence we need your electronic logs.
If possible, use contest logging software to generate a Cabrillo file, then upload it using the on-line submission form.
Otherwise please use the online form or some other means to generate a valid plain text column-aligned Cabrillo file, then upload that.Provided you made less than 50 contacts, you can mail in a legible paper log with a summary sheet (see the official rules for details).
Get your log in before November!
Every submitted entry will be checked and given a final score as part of the adjudication process … but naturally you are welcome to calculate your claimed score and hope that's close!
A veritable profusion of certificates, trophies and plaques will be awarded.
Please email the Committee at info@oceaniadxcontest.com if you have any problems entering.
Good luck!
https://www.tecsunradios.com.au/store/wp-content/uploads/2015/02/tecsun_logo_Artboard-1-300x112.png
0
0
Michael
https://www.tecsunradios.com.au/store/wp-content/uploads/2015/02/tecsun_logo_Artboard-1-300x112.png
Michael
2021-09-22 11:13:47
2021-09-22 11:50:03
76th 2021 Oceania DX (OCDX) Contest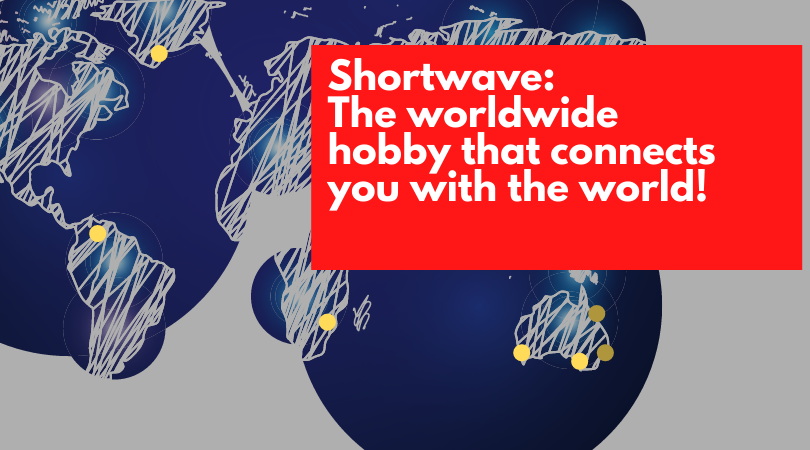 We all love to communicate, why not take a trip around the world with radio!! No internet connection or mobile phone signal is needed! Talk to other amateur radio operators across the world, maybe even in unusual places or as far as space!
Yes, that's right, the international space station carries amateur radio equipment on board and there are always licensed amateurs among the crew who enjoy using it to communicate with operators all over the world. Youtube features several recordings of amateur radio operators communicating with space crew!
What to listen to
You can listen to local radio stations from around Australia, and even the world via shorwave.
 HF aircraft channels, weather reports, and amateur radio nets. For those new to listening on the HF bands, nets are an 'on-the-air' gathering of amateur radio operators. chatting and passing messages, normally via organised radio nets, on a predetermined frequency at the same time every day.
These nets can range from discussions on areas of interest, to emergency messages or simply as a regular gathering of friends for conversation. 
Here are some of the most common radio nets.
DX Nets
DX nets are one of the most fascinating and are often organized to help amateur radio operators make contact with stations in distant locations or regions where amateur radio operators are scarce. 
Imagine randomly tuning across amateur bands and being able to listen to another station you may not normally be able to hear, by simply tuning into a DX net.
Club Nets
Amateur radio clubs organise nets between members on a regular basis. The topics are often of special interest and can vary from vintage radio equipment, locating unique stations in Australia and around the world, using and discussing the AM mode of voice transmission and many more.
These nets foster communications members across geographic locations and special interest clubs, and make fascinating listening for shortwave enthusiasts, whilst providing an open communications link for those in isolation.
Traffic Nets.
Traffic nets operate primarily to relay written messages. Both routine and emergency messages have been passed on behalf of others as a public service mission for decades.
Often used for training purposes or during emergencies such as natural disasters when there are power outages traffic nets are used to pass on crucial information to the affected areas. Often relayed by emergency services or ham radio users where possible.
If you are looking to add a shortwave radio to your collection we have a fantastic selection available on our webshop like The Tecsun PL880 Radio 
*Info from the Wireless Institute of Australia 
https://www.tecsunradios.com.au/store/wp-content/uploads/2015/02/tecsun_logo_Artboard-1-300x112.png
0
0
Michael
https://www.tecsunradios.com.au/store/wp-content/uploads/2015/02/tecsun_logo_Artboard-1-300x112.png
Michael
2021-09-08 10:13:00
2021-09-08 10:13:00
Shortwave: The worldwide hobby that keeps you connected!!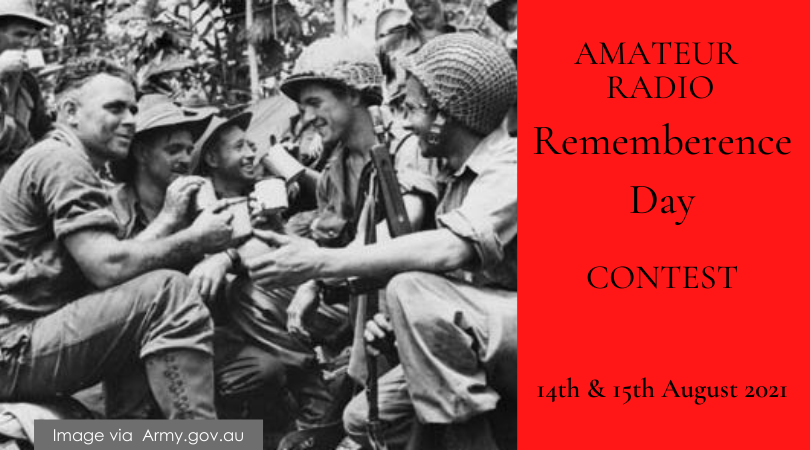 A radio contest designed to encourage community, improve operating skills and encourage the participation of radio users.
 This event is held to commemorate the Amateurs who died during World War II.
This year, the event will be held on the weekend of August 14 and 15, 0300 UTC Saturday to 0300 UTC Sunday.
The Aim of the contest: Amateurs try to contact amateurs in VK call areas, ZL and P2 on all bands except WARC bands. Modes allowed are PHONE, CW and RTTY, modes that were used during WW2. 
The prize for this contest is a perpetual trophy awarded to the state or territory with the best performance.
This is also a great opportunity for shortwave listeners to test their antennas, receivers and reception techniques over the weekend.
Contest Rules
As a mark of respect, stations are asked to observe 15 minutes silence prior to the start of the contest, during which the opening ceremony will be broadcast.
Categories
Single Operator
Single Operator – QRP
Multi-Operator – Single Transmitter (Multi-Single)
Multi-Operator – Unlimited (Multi-Multi)
Sub-Category Modes for Single Operators
Phone (AM, FM & SSB)
CW (CW & RTTY)
Mixed
Permitted Bands
Contacts may be made on MF (160M), HF and VHF & above bands except for WARC bands (10, 18 & 24 MHz) which are excluded by IARU agreement from all contest operations.
HF SSB Voice transmissions should be within:
1843-1875, 3535-3570 and 3600-3700, 7080-7300, 14112-14300, 21150-21450, 28300-29100KHz,
otherwise, disqualification or points reduction may result.
For additional contest rules, how to enter please click here. 
Operators using Ex WW2 equipment will be awarded with a special certificate acknowledging their participation and use of such.
Suitable Tecsun receivers for this contest would be the PL-365, PL-330, PL-880, PL-600 and 660.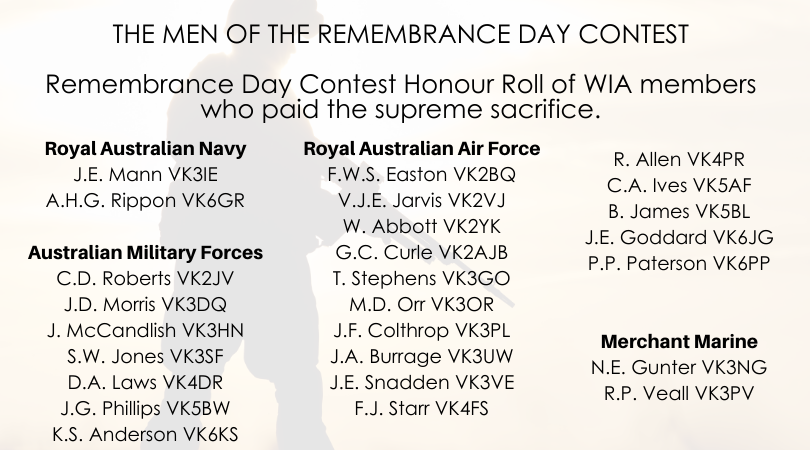 https://www.tecsunradios.com.au/store/wp-content/uploads/2015/02/tecsun_logo_Artboard-1-300x112.png
0
0
Michael
https://www.tecsunradios.com.au/store/wp-content/uploads/2015/02/tecsun_logo_Artboard-1-300x112.png
Michael
2021-08-11 13:17:37
2021-08-11 14:25:51
Amateur Radio Remembrance Day Contest August 14 and 15 2021