The recent Optus Network outage in Australia, which left over 10 million people without phone service and internet access for a prolonged nine hours, is yet another reminder of the importance of preparedness. As more Australians questioned the wisdom of relying on a single network for both home internet and mobile phone service, it's a wake-up call for everyone to consider alternative methods of staying in touch with the outside world, like shortwave radio. In this blog, we'll explore how this outage affected millions and how radio can be a reliable lifeline during such emergencies.
The Impact of the Optus Network Outage
The Optus Network outage had a profound impact on daily life for millions of Australians. Businesses, especially those heavily reliant on EFTPOS machines, were among the hardest hit. One hospitality business in Sydney's inner suburbs, operating in a predominantly cashless society, saw an 80% drop in customers during the outage. For many, particularly the younger generation, who have never experienced life without a phone, it was a bewildering experience. Many of the older generation enjoyed a day off.
Preparedness is Key
Events like the Optus outage serve as a stark reminder to be prepared for any emergency event or network outage. The outage disrupted not only daily life but also critical emergency services. Some mobile phones couldn't reach triple-0 (Australia's emergency number), and hospitals across the country, including virtual emergency departments in remote areas, were severely impacted. Lives were at risk due to the inability to communicate with emergency services during this crisis.
Why Shortwave Radio Matters
AM, FM and Shortwave radio, a technology over a century old, demonstrated its enduring value once again during the outage.
When everything else, including the electrical grid, internet, and cell service, fails, radio stood strong. It can relay information immediately if it's equipped with backup power, making it a reliable source of communication during emergencies.
Tips for Shortwave Radio Preparedness
Ensure that you and your family have AM/FM/shortwave radios readily available. You never know when you might need them.

Learn how to operate your radio. Practice tuning in and show your family and friends how to tune in to local and international stations to stay informed during an outage.

Store your radio in an easily accessible location. In an emergency, every second counts.

Keep your radio charged or stock up on fresh batteries to ensure it's always ready to use.
It's easy to take for granted in our interconnected world, but when it's suddenly unavailable, the consequences can be dire. Shortwave radio, a time-tested technology, can be a lifeline in times of crisis, offering a reliable means of communication when all else fails. Don't wait until you need it; be prepared, keep your shortwave radio ready, and ensure that everyone in your family knows how to use it. In a world of uncertainty, this simple yet powerful tool can make all the difference.
We have two fantastic emergency radios available in our web store at very affordable prices.
https://www.tecsunradios.com.au/store/wp-content/uploads/2015/02/tecsun_logo_Artboard-1-300x112.png
0
0
Michael
https://www.tecsunradios.com.au/store/wp-content/uploads/2015/02/tecsun_logo_Artboard-1-300x112.png
Michael
2023-11-10 10:41:10
2023-11-15 12:16:28
Lessons from the Optus Network Outage- Lucky you know about shortwave!

Shortwave radio listening, or SWLing, is a unique hobby that holds a special allure for enthusiasts. It's a bit like finding hidden treasures in a vast, mysterious landscape, akin to discovering Easter eggs in video games. The enjoyment of SWLing stems from uncovering something that has always been there, waiting to be found, yet often overlooked or dismissed.
If you're a dedicated shortwave radio enthusiast, you know that a significant part of the enjoyment comes from DXing. DXing, or long-distance listening, is the practice of tuning into distant radio stations, often from other countries or continents. It's the equivalent of embarking on a grand adventure, where the reward is the joy of discovering elusive signals amidst the cacophony of static and interference. However, DXing is just the tip of the iceberg when it comes to maximizing your SWLing experience. Here, we explore additional tips to help you get the best out of your shortwave radio journey.
Understand the Basics: The 25-30-20-25 Rule
To fully appreciate the magic of shortwave radio, it's essential to grasp the fundamentals. SWLing is not just about the radio itself; it's a synergy of factors that contribute to the overall experience. Imagine it like this: 25% of the magic lies in the radio you use, 30% is in your outdoor antenna setup, 20% depends on your knowledge of the right time and frequencies for listening, and the remaining 25% revolves around your location. For optimal results, invest in a good radio, set up an efficient antenna, master the art of timing, and seek out quiet places for listening.
Dive into the Metaphorical World of SWLing
There's a beautiful metaphorical world that can be associated with SWLing, allowing you to look beyond the surface and appreciate the deeper meaning of this hobby. Consider some of these associations:
Tuning into Enjoyable Frequencies: Just as in SWLing, in life, you can choose to tune into the enjoyable frequencies. Identify the things that bring you joy, fulfillment, satisfaction, and make a conscious effort to incorporate them into your daily routine.
Reducing Noise and Adjusting the Tuning: Life often presents noise in the form of irritations, annoyances, and distractions. Like adjusting the tuning on your radio, you can reduce this noise by addressing these irritations and finding ways to enhance your comfort and enjoyment.
The Tuning Is Off: Sometimes, the outcomes in life may not align with your desired goals. Just as in SWLing, where the tuning can be slightly off, in life, you may need to recalibrate your efforts and strategies to get closer to your desired outcomes.
Incorporating these metaphorical perspectives into your SWLing experience can add depth and meaning to your hobby, helping you draw parallels between the art of listening to shortwave radio and the art of living a fulfilling life.
SWLing is a journey of exploration, both in terms of uncovering hidden radio signals and discovering the subtle, metaphorical messages it holds for our lives. By understanding the 25-30-20-25 rule, investing in quality equipment, and embracing the metaphorical aspects, you can truly unlock the magic of shortwave radio and enjoy the profound rewards it offers. So, keep tuning in, and let the hidden secrets of the shortwave world continue to captivate your imagination and enrich your life.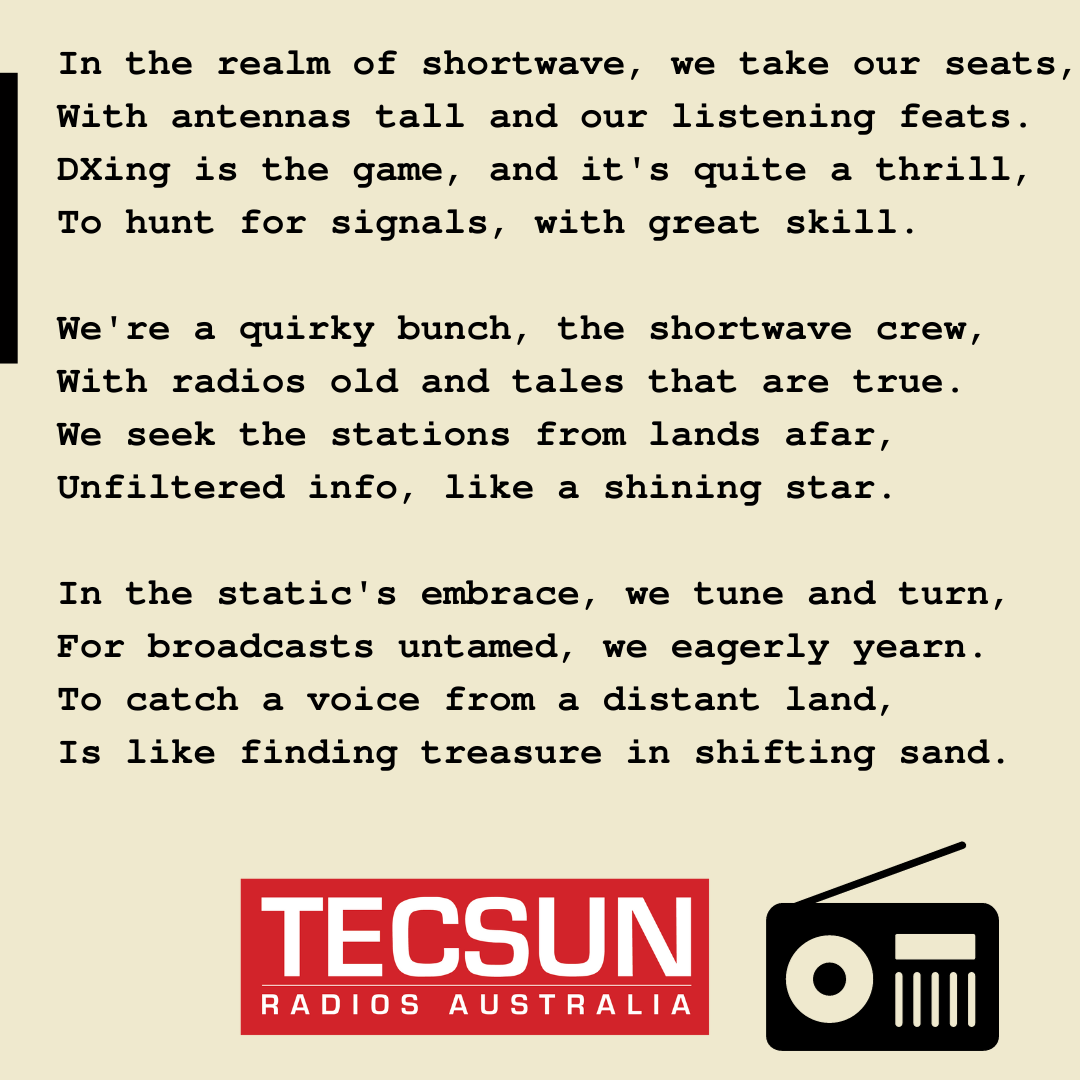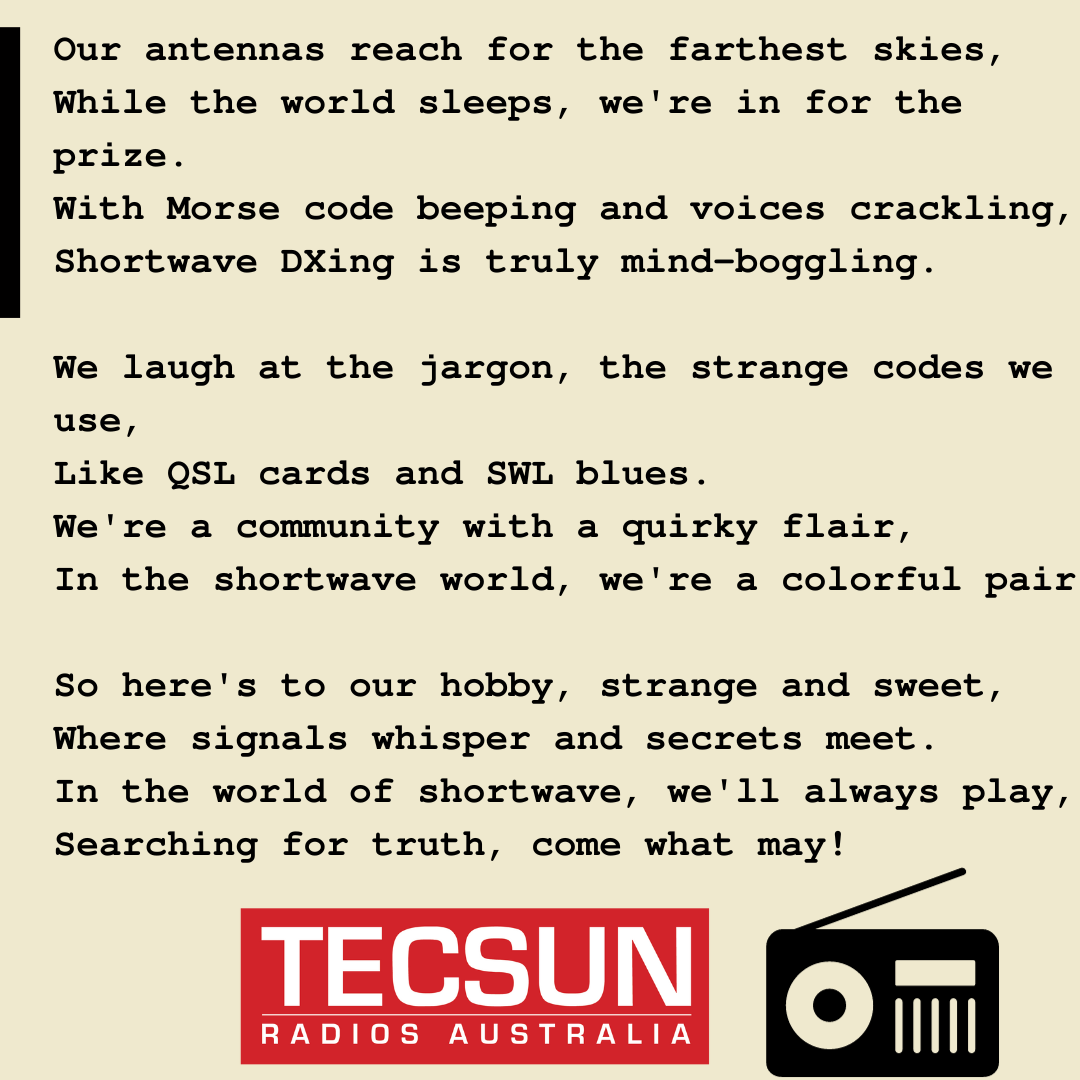 https://www.tecsunradios.com.au/store/wp-content/uploads/2015/02/tecsun_logo_Artboard-1-300x112.png
0
0
Michael
https://www.tecsunradios.com.au/store/wp-content/uploads/2015/02/tecsun_logo_Artboard-1-300x112.png
Michael
2023-11-02 13:01:19
2023-11-02 13:01:19
Unlocking the Magic of Shortwave Radio: Discovering the Hidden Secrets of SWLing- A philosophical view to the hobby!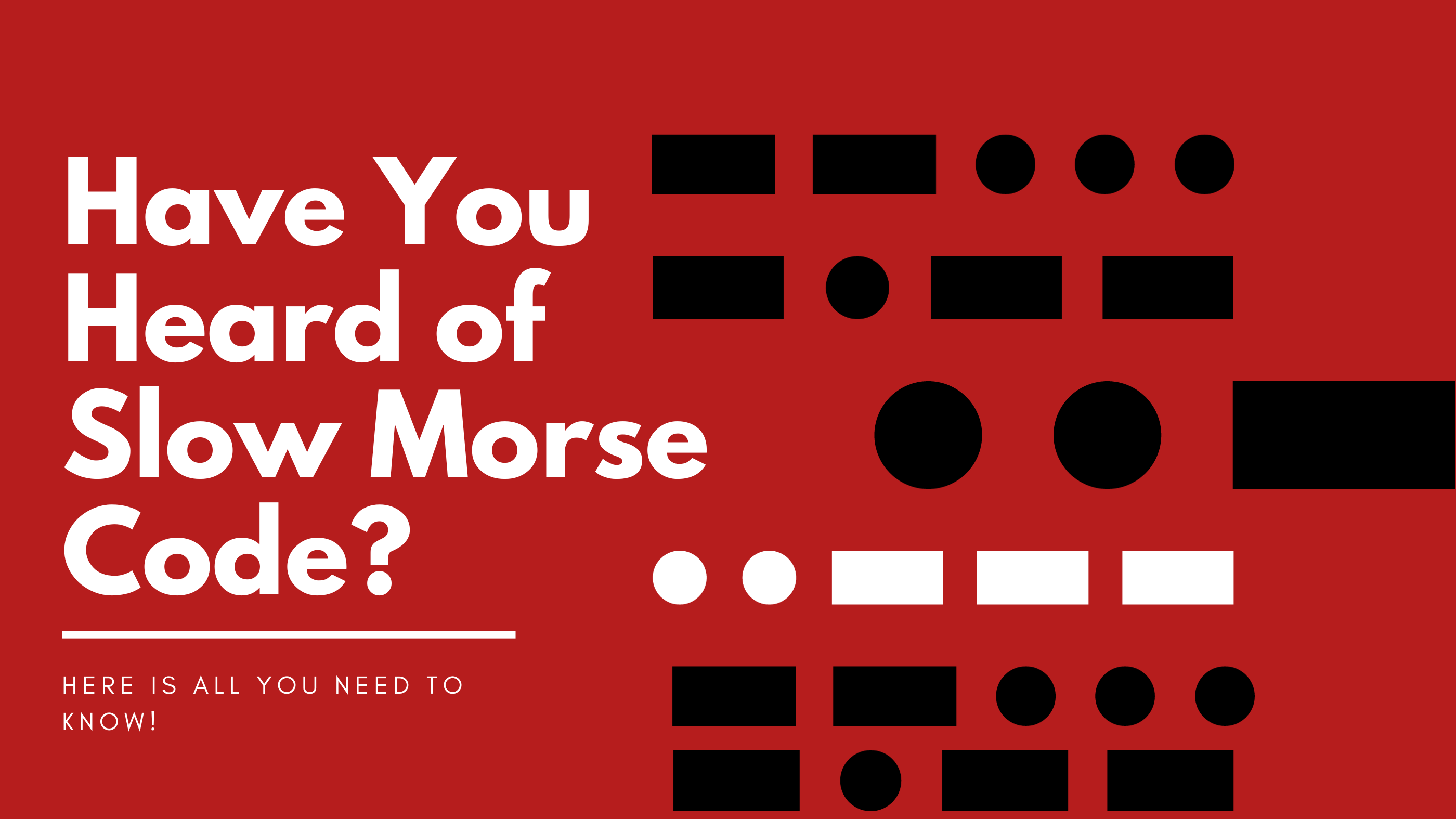 We often invite our community to write in and let us know about any interesting events. We got a great email from Mark who runs a slow morse code net every week! 
We will share his details in next week's newsletter. Stay tuned.
Some of the younger folk in the office said, slow morse code? what is that? So we thought it was high time we created a blog on this very topic.
So, what is Morse code? It is a communication system developed in the early 1800s, that involves creating messages, where each letter of a word is sent as a sequence of dots and dashes. This system is transmitted via sound or visual signals, typically with the help of devices like telegraphs, lamps, or radios. Slow Morse code, often referred to as "QRSS" (which stands for "QR" for "to receive slower," and "SS" for "to send slower"), is a variant of traditional Morse code designed for low-speed communication and radio enthusiasts. Here's how it works, how to access it, and why people enjoy this hobby:
How Slow Morse Code Works
Encoding: Slow Morse code uses the same fundamental principles as traditional Morse code. Letters, numbers, and symbols are represented by combinations of short signals (dots) and long signals (dashes).

Speed Reduction: The primary difference is in the speed of transmission. While traditional Morse code can be relatively fast, slow Morse code is intentionally slowed down. Each character can be extended to several seconds, making it much more accessible for newcomers and hobbyists.

Transmission: Slow Morse code is transmitted using radio waves or light signals. Radio enthusiasts often use specialized devices and software to encode and decode these signals.

Decoding: The receiver uses a device, like the Tecsun Radios Australia SDR (Software-Defined Radio), to capture the radio signals and convert them into visual or audible Morse code.
Accessing Slow Morse Code
Equipment: To access slow Morse code, you need a suitable radio receiver. Tecsun Radios Australia SDR is an example of a device that can be used for this purpose. It allows you to tune into specific frequency bands.

Tuning In: With your SDR, you can select the frequency range where slow Morse code transmissions are taking place. Radio hobbyists often monitor certain bands allocated for amateur radio Morse code communication.

Waterfall Display: The Tecsun Radios Australia SDR and similar devices often include a "waterfall display." This display shows a visual representation of the spectrum over time, making it easier to identify and decode slow Morse code signals. Operators can visually follow the patterns of dots and dashes on the display.
Why People Enjoy Slow Morse Code as a Hobby
Technical Challenge: Slow Morse code provides a technical challenge for enthusiasts. It requires understanding of radio equipment, propagation conditions, and signal decoding.

Nostalgia: Many hobbyists are drawn to Morse code due to its historical significance in radio communication.

Community: Slow Morse code has a dedicated community of enthusiasts who share information, tips, and participate in events Just like Mark's local net we will share with you in next week's Newsleter.

Relaxation: The slow pace of Morse code can be calming for some people. It allows for a more relaxed and methodical approach to communication.

Unique Skills: Learning Morse code is a unique skill, and many enjoy the sense of accomplishment that comes with mastering it.
Slow Morse code is a variant of Morse code that is enjoyed by radio enthusiasts. The slow pace, technical aspects, and sense of community make it an attractive hobby for those interested in both history and modern radio technology. The ability to watch the whole band segment on a waterfall display aids in decoding the signals, adding an extra layer of enjoyment for enthusiasts.
https://www.tecsunradios.com.au/store/wp-content/uploads/2015/02/tecsun_logo_Artboard-1-300x112.png
0
0
Michael
https://www.tecsunradios.com.au/store/wp-content/uploads/2015/02/tecsun_logo_Artboard-1-300x112.png
Michael
2023-10-13 13:49:47
2023-10-13 13:50:07
Have You Heard of Slow Morse Code? Here is all you need to know!