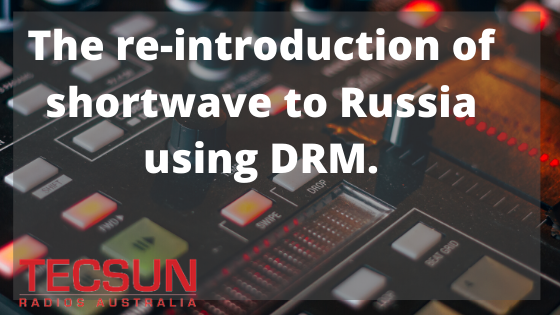 Russia is considering the re-introduction of shortwave radio using DRM (Digital Radio Mondiale), a technology which is designed to cover large areas at modest operating cost.
Prior to the 2000's, shortwave was broadcast in Chukotka for communications across the far northeastern region of Russia and the Northern Sea but was gradually discontinued as funding became more difficult to obtain.
Due to the unique capabilities of shortwave transmissions coupled with the new capabilities of DRM, an audience size of a few thousand spread over a vast area could be best serviced by shortwave again.
Transmitting shortwave digitally offers the advantage of long-distance coverage and a higher fidelity signal. Text information such as news and weather can also be embedded in the signal and decoded at the receiver. Recent studies show that DRM is just as reliable as analog shortwave over this distance via single-hop transmission. An added benefit of DRM transmissions is they use a quarter of the power that analog transmissions. 
This new shortwave service is named Radio Purga ("Radio Blizzard"), a  joint project between the government in Chukotka and the Far Eastern Regional Center and the government in Chukotka
The target audience includes people in the Northern Sea including mariners, miners, geologists, hunters, and nomadic reindeer herders. All of these groups would benefit from both news and weather as well as traditional entertainment programming.
A range of test transmissions commenced in August 2019 via different DRM modes and bandwidths to trial "hardware setup and determine signal acceptability," with the goal of covering over 95% of the area. Programming consists of a music loop and interestingly has been heard as far away as the United States.
Currently the broadcaster is still carrying out transmission tests on 5935, 6025, 11860 and 15325Khz.
Radio Purga's regular programming is expected to begin sometime in the next few months. One of shortwave's finest capabilities is to communicate to hard-to-reach locations. Radio Purga's audience is spread over a remote and vastly spread region. 
Resuming shortwave via DRM will provide the population with a critical communication source in both audio and text. 
https://www.tecsunradios.com.au/store/wp-content/uploads/2015/02/tecsun_logo_Artboard-1-300x112.png
0
0
Ricardo Rosario
https://www.tecsunradios.com.au/store/wp-content/uploads/2015/02/tecsun_logo_Artboard-1-300x112.png
Ricardo Rosario
2020-04-20 21:46:19
2020-04-20 21:47:28
The re-introduction of shortwave to Russia using DRM.