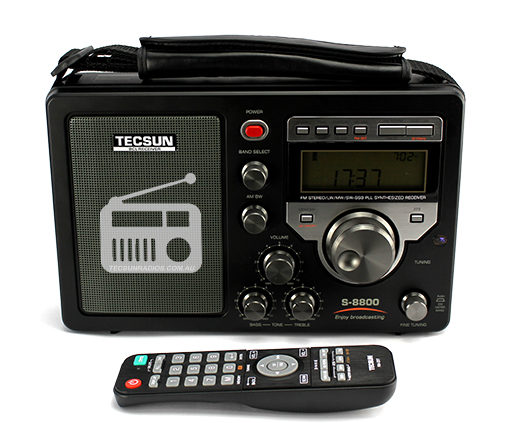 The Tecsun S-8800 has been a long time coming to the Australian market so we're very excited that Silicon Chip Magazine has featured this great new addition to our range of radios in their most recent July 2017 magazine!
Here are some of the great things they had to say about the P-8800.
"If you live in, or go "bush" and want a radio that will let you keep listening where other radios have given up, or if you're a city resident who wants to give DX listening a go, try the Tecsun S-8800."
– Silicon Chip Magazine
"The S-8800 is right up there, even exceeding many higher-priced sets in its ability to not only resolve distant stations but to maintain them at an enjoyable level."
– Silicon Chip Magazine
"The shortwave section covers just above the broadcast band (1.711MHz) through to almost 30MHz (actually 29.999MHz and with its single sideband plus AM reception, along with fine tuning, you'll be pulling in stations that you didn't know existed!"
– Silicon Chip Magazine
And the Silicon Chip team aren't the only ones excited about this great new addition to the Tecsun family of radios. Here you can read Garry Cratt's full review here, and watch the video demonstration!
 "Although the frequency range is stated as 520-1620kHz (when the receiver is set to 9kHz spacing), it can be extended by setting the receiver to 10kHz spacing and then it will be possible to tune 520-1710kHz. By using slow tuning steps (1kHz), and station can be tuned."
– Radio expert Garry Cratt (VK2YBX)
The S-8800 was featured and reviewed in Silicon Chip Magazine alongside the new Tecsun D-008 DAB+ Digital Radio!
The Tecsun S-8800 High Performance AM/FM Radio has been designed to provide maximum performance on the AM (MW) bands, allowing listeners to receive fringe AM radio stations with unmatched audio clarity.
The Tecsun S-8800 is the only radio in the Tecsun range to provide an infrared remote control in the kit. An absolute luxury for the user as all functions are able to be controlled by the remote. The remote uses standard AAA batteries to make using the remote hassle-free and cheap when it needs recharging.
The Tecsun S-8800 is available and in stock now, right in time for Father's Day! Find out what else is new for Father's Day! 
And check our Father's Day Shipping Schedule to make sure you get what he really wants for Father's Day on time!
You can click here to subscribe to Silicon Chip Magazine to read the review and find out more about our exclusive Father's Day 2017 offers, and stay up to date on all things
https://www.tecsunradios.com.au/store/wp-content/uploads/2018/04/S8800.jpg
637
505
Michael
https://www.tecsunradios.com.au/store/wp-content/uploads/2015/02/tecsun_logo_Artboard-1-300x112.png
Michael
2017-08-04 16:31:54
2018-04-21 11:34:53
S-8800 reviewed in Silicon Chip Magazine