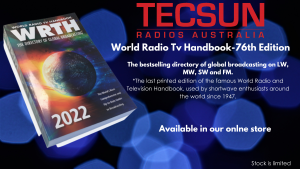 Tecsun Radios Australia is proud to offer you the opportunity to own this piece of history in the making! 
This is 76th edition is the last printed edition of the famous World Radio and Television Handbook, used by shortwave enthusiasts around the world since 1947.
Do not miss the opportunity to acquire the last printed version of the valuable radio resource, often promoted as the most comprehensive guide to broadcasting on the planet.
A must-have for all short wave enthusiasts, This regularly updated handbook is the culmination of an international network of contributors to provide the most up-to-date information on mediumwave, shortwave, and FM broadcasts and broadcasters available in any publication.
This 670-page book contains the includes articles on the further development of HF transmitters, the history of Radio, technical monitoring at VOA, the history of KTWR on Guam as well as the following.
An A-Z country by the country directory of national radio stations with SW, MW, and FM frequencies and contact details, websites and more.
International Radio – full details of the broadcasters and their winter (B20) shortwave frequency schedules, with an expanded Clandestine section.
Frequency Lists – MW by frequency within the region, SW by frequency including DRM broadcasts.
Technical Articles
Reviews of the latest receivers & equipment, including many Tecsun models.
Alphabetical listing of TV broadcasters by country
Colour Maps showing SW transmitter sites
Reference pages including domestic and International Shortwave transmitters, DX Clubs, Standard Time & Frequency transmissions, Internet resources etc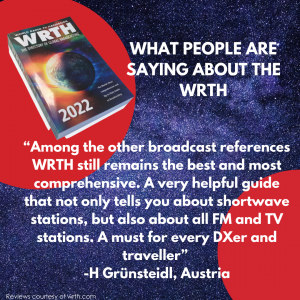 Get your copy here
https://www.tecsunradios.com.au/store/wp-content/uploads/2015/02/tecsun_logo_Artboard-1-300x112.png
0
0
Michael
https://www.tecsunradios.com.au/store/wp-content/uploads/2015/02/tecsun_logo_Artboard-1-300x112.png
Michael
2022-02-01 13:51:27
2022-02-08 13:47:09
The Famous World Radio TV Handbook-76th Edition