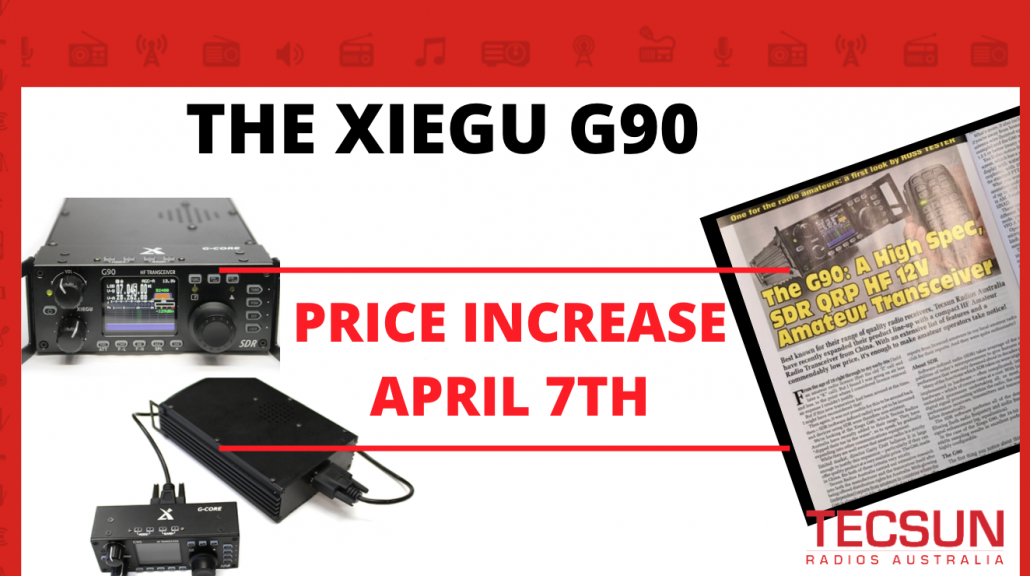 Have you seen the latest edition of Silicon Chip magazine? Our latest product the Xiegu G90 has its own 2 page spread with a favourable review by ROSS TESTER.
 The most notable features are: transmit power of up to 20 watts adjustable in 1 watt increments so output power can be adjusted to suit band conditions, built in ATU, detachable control head for vehicle operations, and a superb general coverage receiver.
Operating frequencies can be directly-entered via the microphone keypad or "dialled up" using the 1.8 inch front panel with 25 push buttons for control.
ROSS TESTER noted that online reviews of the G90 world wide, rate the transceiver at least 4 stars, with many rating the radio 5 out of 5. The unit has been reviewed recently in QST magazine in the USA and Radcom, the monthly magazine of the Radio Society of Great Britain.
Here at Tecsun Radios Australia we heavily research and test new products and much consideration is put into what products we release to the market.
The Outstanding Features of the Xiegu G90 for us are the following.
** 20 watts output power
** Inbuilt ATU
** Detachable front panel
** Superb general coverage receiver
** Waterfall and spectrum display
In addition to these fantastic features the Xiegu G90 represents fantastic value retailing for around half the price of most transceivers on the market.
The Xiegu G90 transceiver is available for order in our webstore with same day shipping available for orders placed before 12pm Business days.
Are you looking to add the Xiegu G90 Transceiver to your collection? Get yours here.
See a preview of the article by clicking here.
https://www.tecsunradios.com.au/store/wp-content/uploads/2015/02/tecsun_logo_Artboard-1-300x112.png
0
0
Ricardo Rosario
https://www.tecsunradios.com.au/store/wp-content/uploads/2015/02/tecsun_logo_Artboard-1-300x112.png
Ricardo Rosario
2020-04-03 14:08:56
2020-04-04 08:50:43
Xiegu G90 featured in a 2 page spread in Silicon Chip Mag