As the weather begins to cool, it is a great time to set up and organise your radio shack.
Crucial for wireless communication, the first radio shacks were aboard ships in the 1900s, several radio units were housed above the bridge in wooden structures.
Similar to a man cave the radio shack is essential for every shortwave listener, it is your place to get away from the hustle and bustle.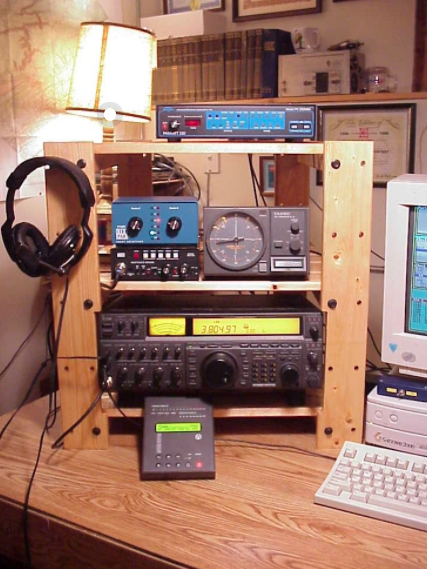 image via qsl.net
Many radio shacks are set up in basements, garages, or spare rooms.
Some important factors to consider are.
Location: Ensure your radio shack is as close to the ground as possible with accessibility for routing wires in and out of your space.
Comfort: Get yourself a large desk that can accommodate lots of radios and a comfortable chair so that the time you spend in your shack is enjoyable. Get yourself a good set of headphones that can plug right into your radio, preferably like our Tecsun communication headphones that feature an extra-long cord so it can reach even the higher up radios in your radio shack.
Ease of use. We mentioned the large desk earlier, it is important to have your units within close reach, at least within arm's length. Buying some shelving for vertical storage is both a great use of space and helps accessibility.
The Extras, just for fun! Get yourself a big clock that shows Zulu or UTC time so you can always see what time it is overseas, plus these look pretty cool!
Get yourself a corkboard that you can pin your QSL cards, decoded images, and other notes.
For those of you who have a radio shack we would love to see your photos. Take a photo and either email it through to hello@tecsunradios.com.au or post your photo and tag us @TecsunAU and #TecsunAU.
https://www.tecsunradios.com.au/store/wp-content/uploads/2015/02/tecsun_logo_Artboard-1-300x112.png
0
0
Michael
https://www.tecsunradios.com.au/store/wp-content/uploads/2015/02/tecsun_logo_Artboard-1-300x112.png
Michael
2021-03-10 16:50:37
2021-03-10 16:50:37
How To Set Up Your Radio Shack