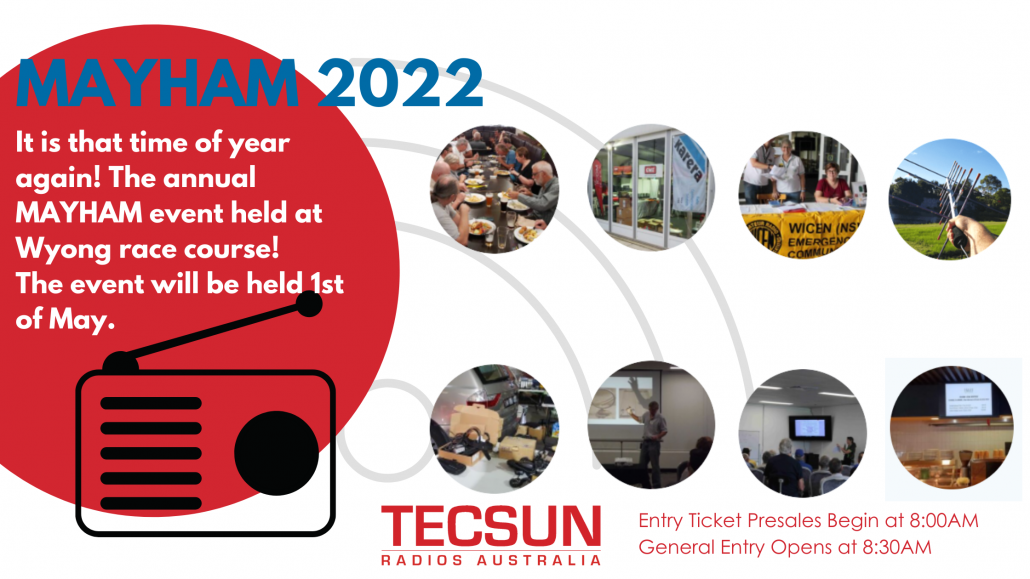 The event will be held 1st of May, with a large portion of the event undercover.
Entry Ticket Presales Begin at 8:00 AM
General Entry Opens at 8:30 AM
Tecsun Radios Australia are proud to attend this event that features educational lectures, car boot sales, new product releases, opportunities to attain or extend or upgrade your radio licence, topics by keynote speakers include Collins T-195  transmitter restoration (100 watts output, 2-18 Mhz, 26 valves !), WINLINK HF email system, and Club Owned Remote Stations and integrating the Flex 6000 into such stations (Zoom presentation).
Tune in to the event broadcast while you find a bargain at the car boot sale.
As always, the Tecsun team will be there exhibiting our best sellers and will be available for a chat about all things shortwave. Pick up your free copy of our latest Shortwave Radio Listening Guide. Come and say hi!
One of the most exciting events as part of Mayham happens on the Saturday.
The FOX HUNT!
What is a Fox Hunt, you say?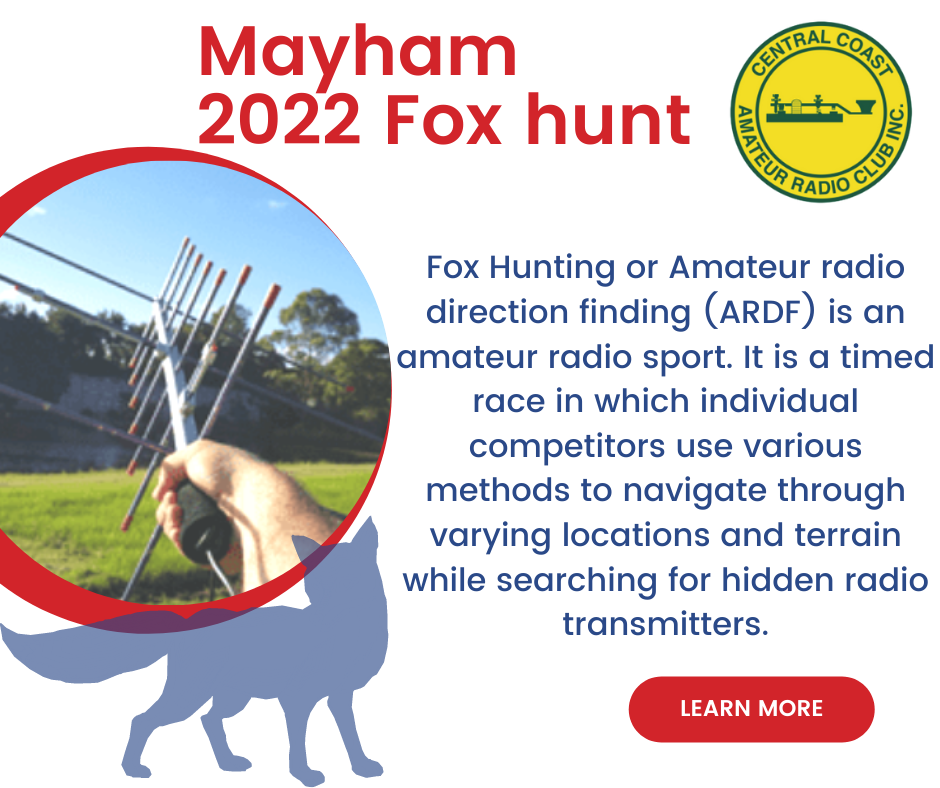 Fox hunting is one of the many side quests of amateur radio. Fox Hunting or Amateur radio direction finding (ARDF) is an interactive amateur radio sport where individuals use the two meter amateur radio band whilst navigating through varying terrain and locations, searching for hidden radio transmitters. 
All competitors must carry equipment capable of receiving the signal being transmitted by multiple transmitters. You may see quite the array of specialised equipment, including a radio receiver, signal attenuator, and directional antenna. Most equipment designs integrate all three components into one handheld device.
For this year the CCARC is promising to really mix things up!! 
The details!!!
 There will be three hunts operating sequentially.
Short Pedestrian of approximately 30 minutes

Mobile / Pedestrian hunt of approximately 45mins – 1 hour

Long Mobile hunt to last approx. 1½ hours
Participants will be required to assemble on the footpath Wyong Commuter Carpark, Located at Rose Street Wyong. This is due to current access restrictions to the site.
Proposed timeline of events: (Allow additional time for any changes and transitions between hunts)
12:45 – Pedestrian footpath, Rose Street, Wyong.
This is for initial gathering, registration, and discussion of rules
13:00 First Fox Transmitter activated on low power. Good luck!
13:45 First hunt to finish, regroup for start of the first Mobile / Pedestrian hunt.
This fox will be on High power for first 15-20 Minutes, then reverts to LOW POWER
14:45 Second hunt ends, reassemble for start of longer Mobile "hunt"
17:00 – End of Mayham Fox Hunt for 2022.
Important Information:
1st Prize winner will receive Deluxe hotspot kit and Clear acrylic case courtesy of VK Direct and VK4NGA Amateur Radio to the value of $200
2nd Prize winner will receive $100 Westfield gift card
3rd Prize winner will receive a $50 Westfield gift card.
For the full rules of the event and further information click here
There will be a great selection of food available on the day. To see the full menu click here.
General Entry Gate Opening Times
Entry via Rose Street
Pre-Sales begins at 8:00AM
Entry Gates open at 8:30AM
Cash and Eftpos Facilities available on the day
Address
69 – 73 Howarth St,
Wyong NSW 2259
Car park entry is located in Rose Street
By Rail
Only a short walk from Wyong Railway Station
For the full details on this event including information about the lectures click here
https://www.tecsunradios.com.au/store/wp-content/uploads/2015/02/tecsun_logo_Artboard-1-300x112.png
0
0
Michael
https://www.tecsunradios.com.au/store/wp-content/uploads/2015/02/tecsun_logo_Artboard-1-300x112.png
Michael
2022-04-21 12:45:47
2022-04-21 12:45:56
MAYHAM 2022