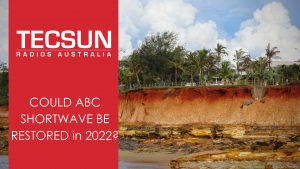 A controversial decision in 2017 lead to the ABC turning off its domestic shortwave radio service, much to the disappointment and anger of remote listeners. It's reasoning for turning off the shortwave broadcasts was that it would only affect a small number of listeners and in fact save operating costs of $1.9M, which could be re-invested in providing infrastructure of digital services located in populated regional areas.
Many industry groups were outraged, particularly in remote areas of the Northern Territory where residents had come to rely on the service as their only regular source of news and entertainment.
In February 2011, cyclone Yasi crossed the Australian east coast between Cairns and Townsville, causing enormous damage and knocking out all local communications. 
Radio Australia carried ABC Queensland coverage of the storm, which was extraordinary. 
The ABC shortwave transmitter at Shepparton Victoria was activated on 9710 and 6080 kHz, and the giant curtain array antenna pointed to Far North Queensland. This broadcast provided emergency information, sheltering information, updates, and calls from listeners in the midst of the storm.
The enormous signal could easily be heard in Sydney and Brisbane on any shortwave radio.
"The ABC expansion of its digital platforms in capital cities provides no benefits to those Australians living in remote areas, and the withdrawal of domestic shortwave services has been seen as a real kick in the guts". 
"What people take for granted in the cities is a luxury for those living in the bush, who rely on the HF shortwave radio services as a reliable source of news, weather information, and entertainment, There are numerous examples where ABC domestic shortwave has been the only source of information to remote area residents during a weather-related emergencies," said Garry Cratt owner of Tecsun Radios Australia, who made a submission to government at the time.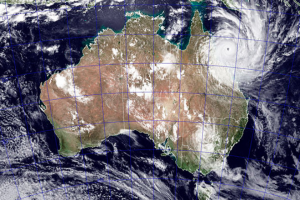 Cyclone Yasi approaching the east coast of Australia, Feb 2 2011.
Photo source: Bureau of Meteorology
The federal Labor party has announced that if elected next year, they will provide the ABC with $2M in funding to re-establish the shortwave funding across the territory.
Federal Member for Solomon Luke Gosling mentioned that he was approached by community groups who were angry at the axing of ABC shortwave and said" when shortwave was cut there was a lot of angst, so it will be a good thing to bring it back to keep people on the land and waters connected. Many thousands will benefit from this [bringing back shortwave]"
Article source: NT Country hour, ABC News, Bureau of Meteorology.
https://www.tecsunradios.com.au/store/wp-content/uploads/2015/02/tecsun_logo_Artboard-1-300x112.png
0
0
Michael
https://www.tecsunradios.com.au/store/wp-content/uploads/2015/02/tecsun_logo_Artboard-1-300x112.png
Michael
2022-01-13 11:41:40
2022-01-17 07:25:33
Labor promises $2M Shortwave radio restoration.