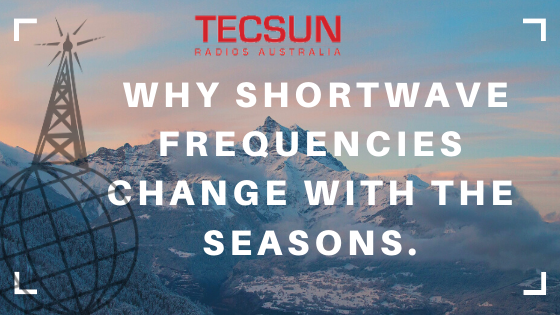 Do you enjoy listening to shortwave and have noticed the frequencies used by your favourite broadcaster change twice a year? Interestingly there is a scientific reason behind this.
Shortwave travels long distances because of its unique way of propagating. The transmission is beamed upwards towards the sky where it is reflected back down to earth spanning a huge distance between the two points. In good conditions a single transmitter is able to reach millions of listeners around the world.
This is what makes shortwave unique and incredibly effective, especially to remote audiences as well as to areas where news and information is highly controlled. 
As a general rule, higher frequencies (SW) work best during daylight hours and summer time while lower frequencies (MW) work better in darkness – before dawn and during the long winter evenings. 
 This same frequency can not be used all year round because as the seasons change the number of daylight hours at any location can directly affect the optimum frequency band. This is because the energy from the Sun required to ionise reflective layers in the upper atmosphere is directly impacted by the sunlight hours available. So seasonal changes causing shorter sunlight hours will affect daily propagation of a higher frequency, and so a lower frequency will need to be chosen to provide similar coverage during the period of shorter days.
The High Frequency Coordination Committee (HFCC, under the ITU International Telecommunications Union) is the body that has the responsibility to decide when to change shortwave  frequencies.They must coordinate these changes with all the major shortwave broadcasters around the World.
To ensure the optimal transmission conditions the HFCC recommend  two seasonal frequency schedules – summer and winter – known as the 'A' and 'B' seasons.
The changeover between seasons is internationally agreed to occur on the last Sunday in March (start of 'A' season) and the last Sunday in October (start of 'B' season), which coincides with start and end of 'Daylight Saving' in many countries, where local time can change.
The changeover 'A20' season has just occurred on Sunday 29th March, and the frequencies agreed for all shortwave transmissions will continue until the beginning of the next season 'B20', on Sunday 25th October.
https://www.tecsunradios.com.au/store/wp-content/uploads/2015/02/tecsun_logo_Artboard-1-300x112.png
0
0
Ricardo Rosario
https://www.tecsunradios.com.au/store/wp-content/uploads/2015/02/tecsun_logo_Artboard-1-300x112.png
Ricardo Rosario
2020-04-03 11:34:59
2020-04-03 11:34:59
The Art of Frequency Planning and Why Shortwave Frequencies Change With The Seasons.