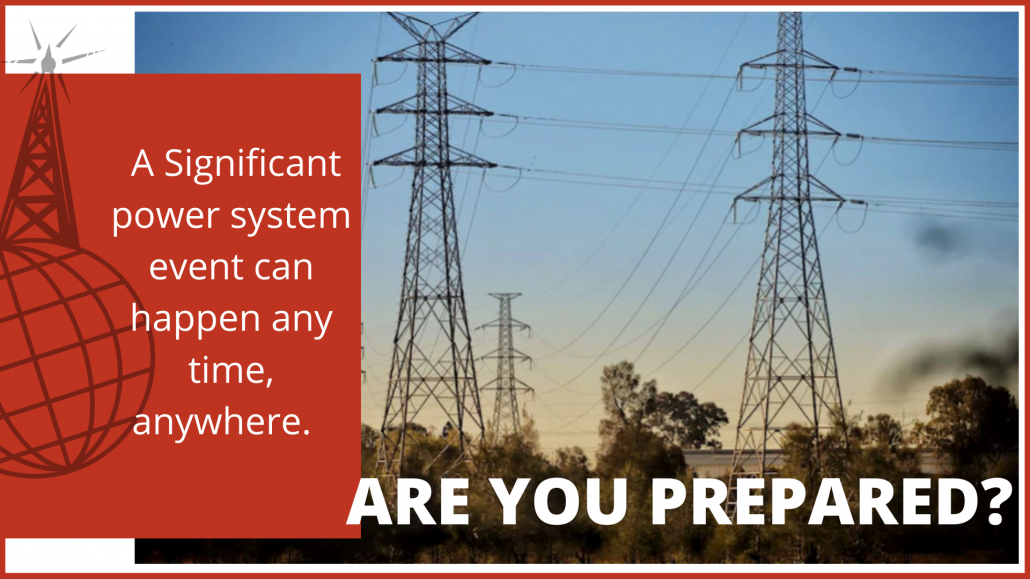 At 2 pm on Tues 25th May 2021, a fire broke out in a turbine at the Callide power station in Central QLD causing three generators to be shut down. The scenario of a hydrogen-filled generator exploding or failing mechanically causing hydrogen leaks and then also oil leaks, is probably the worst-case scenario in a coal-fired power station, according to Union representatives.
A further domino effect followed, tripping plants further down the network and causing an electricity outage of almost 500,000 homes from northern New South Wales up to far north Queensland. 
 Chaos ensued with a black-out affecting hundreds of thousands of homes, the Brisbane city traffic lights, shopping centers, sewage treatment plants, and even Gold Coast trams.
The Australian Energy Market Operator (AEMO) requested consumers in Queensland temporarily reduce their energy usage where safe to do so
Thankfully nobody was injured by this incident however, this is a stark reminder that significant power events, similarly, significant weather events ( the two are often related) can occur anywhere at any time.
Is your home prepared for such events?
How to prepare yourself for a power outage.
A severe power outage can last for days, so its a good idea to set aside a day once a year to spend 10 minutes making sure you are prepared if the sudden event of a power outage occurs.
Take an inventory of the items you need that rely on electricity. Plan for batteries and other alternative power sources to meet your needs when the power goes out, such as a portable charger or power bank. Have flashlights for every household member. Determine whether your home phone will work in a power outage and how long battery backup will last.
Make sure you have an emergency radio that can be hand-cranked or solar powered so that you can receive essential emergency broadcasts and instructions when other forms of communications are down. Many top emergency radios feature additional safety features including a flashlight, emergency alarm to attract attention and USB charging. 
How to protect yourself during a power outage.
Disconnect appliances and electronics to avoid damage from electrical surges. Turn off or disconnect appliances, equipment, or electronics. Power may return with momentary surges or spikes that can cause damage.

Use a generator if you have one, but ONLY outdoors and away from windows to minimise exposure to carbon monoxide.

Do not use a gas stove or oven to heat your home.

Keep freezers and refrigerators closed and have alternate plans for refrigerating medicines or using power-dependent medical devices.

Tune into your local radio emergency broadcast for updates and directions if you are in an effected area
Grab your emergency kit and keep it close.
Thank you to ready.gov for these tips.
Emergency kits are essential in every household, because you don't need them till you do.
Do you have an emergency kit prepared at home? Click here to see the full list of what essential items you will need to have packed and ready to go. What is in an emergency kit.
Don't have an emergency radio yet?
We recommend the Best Emergency Radio which is our highest performance AM/FM/SW Solar Powered Radio with inbuilt Solar Panel and Hand Crank Dynamo Charging. Additional features much needed during an emergency are a LED torch and personal alarm, a siren to gain the attention of emergency services and an inbuilt USB charger.
We recommend the DE13 Emergency AM/FM/SW Solar Radio which is an economy model, featuring a torch, personal alarm, inbuilt Solar Panel, and Dynamo hand crank charger that allows you to recharge the internal battery or charge any device by USB or mini USB including your mobile phone. This is the perfect radio to keep for any emergencies.
Click here to shop these products in our online store.
https://www.tecsunradios.com.au/store/wp-content/uploads/2015/02/tecsun_logo_Artboard-1-300x112.png
0
0
Michael
https://www.tecsunradios.com.au/store/wp-content/uploads/2015/02/tecsun_logo_Artboard-1-300x112.png
Michael
2021-05-26 14:14:16
2021-05-27 16:31:22
Yesterday's Mass Power Outage: A Reminder That Emergency Events Can Occur Any Time, Anywhere. Are You Prepared?